The news has been setting it's sights on school districts across the United States. The thing that kicked off this controversy were the published guidelines for schools to re-open by the CDC. There was one small problem with this statement, they had no idea what they were talking about in regards to what it really takes to open up a school. This is one time when you try to dictate how things should go but, you have no real experience then I would say – "CDC, stay in your own lane." This logistical error, parents felt like the CDC was more qualified then administrators. I promise you that you ask any teacher and they'll tell you they miss the kids and the classroom. Understand thought, as teachers, we care very deeply for all of our kids so bringing them back to the possibility of catching a deadly virus is not something we want to risk. I teach in a school were the population is around 900 students and about 60 staff members. To keep to the 6 feet distance and the masking is going to be nearly impossible. The biggest thing that needs to happen is that ALL staff and administration need to be completely vaccinated. If we all get the vaccine then we hold a chance to not spread the virus to the students.
Something we need to remember is children are catching the virus and some are even dying. Sadly, we've lost one student and one secretary this school year so far and this really makes things difficult when this happens. I know that the vaccine makers are now testing the vaccine on children to see what the effects might be. I currently have had my first shot and I'm lined up to get my second in a few weeks. President Biden was not impressed with the CDC either because he knows that the vaccination must be given to schools and the buildings need to be upgraded for better ventilation with a more sterile environment. Don't forget what President Biden's wife does for a living – you don't think she had something to say about what schools need?
I know this is depressing the teachers and students having to be stuck in their homes. I'm really rooting for the vaccine companies to get everyone vaccinated. In the meantime, please keep a close eye on any person who is feeling down right now. We're in the teeth of a hard winter and this doesn't help their feelings. There are organizations out there that are very willing to talk with any person who is depressed and doesn't know what to do. Trust me, I'm a teacher, I'm taking courses in being an administrator, and I've dealt with my own issue of depression. This time will eventually pass and soon we'll be back to school the way it's supposed to be.
Teenage Depression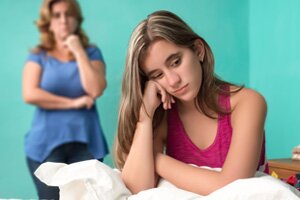 Between 4-8% of adolescents currently experience depression, and up to 25% will experience depression by the time they reach the end of adolescence. The symptoms of adolescent depression manifest differently depending on the developmental stage they are in.
Teenage depression, like depression in adults, has a negative impact on social, school, and family functioning.  Depression during formative stages of childhood and adolescence can impact personality development.
Unlike adult depression, depression in teenagers may present as increased irritability, instead of low mood. Teenage depression is also unlike adult depression because it cannot be easily treated with anti-depressants. In fact, medications can make depression symptoms in teenagers worsen and can increase thoughts of suicide.
If you are a teenager or parent of a teenager who may be depressed, contact a teenage depression hotline to get answers about the best treatment options.
Free Hotline Numbers
If your depression has caused you to lose a job, drop out of school, lose touch with family or friends, or if you've noticed changes in your sleep and appetite that have not improved, contact one of these free resources to learn more about treating your depression.
SAMHSA's behavioral health treatment services locator is an easy and anonymous way to locate treatment facilities and other resources, such as support groups and counselors, to treat and manage depression.
If your depression is leading to suicidal thoughts, call the National Hopeline to connect with a depression treatment center in your area. The Hopeline also offers a live chat feature for those who don't want to (or are unable to) call and can dispatch emergency crews to your location if necessary.
This national hotline is another valuable resource for people whose depression has escalated to suicidal or other harmful thoughts. Their network of crisis centers provide emotional support and guidance to people in distress and are also available via a chat service and a special hotline number for the hearing impaired: 1-800-799-4889.
National Youth Crisis Hotline: 1-800-448-4663
This resource provides brief interventions for youth who are dealing with pregnancy, sexual abuse, child abuse, depression and suicidal thoughts. They also provide referrals to local counseling, treatment centers, and shelters.